Bee & Flea and the Compost Caper
Unlikely bug buddies bring the science of compost heaps to life
Bee is spending another beautiful, boring day pollinating flowers in the backyard when a visitor named Flea gallops onto the scene on a dog's back. Flea is the one and only agent of the Fenced-in-Area Law Enforcement Agency (the F.L.E.A. for short) and she's heard about trouble in the compost heap: it's erupted into a wild frenzy, and Flea needs to investigate. Enlisting Bee in the investigation, the pair flies off to the scene of the crime, where they discover compost critters dancing, slime surfing, and playing games of dodge-poo. But is there more to this compost chaos than meets the eye?
This hilarious hop through the compost heap is the first book in a primary chapter book series featuring Bee and Flea. Lively black and white illustrations bring the crime-fighting team to life, while stealthy, accessible STEM content introduces readers to the tiniest composting creatures and how they make backyards bloom.
Anna Humphrey, Mike Deas
Regular price
Sale price
$18.95 CAD
Unit price
per
---
SKU: 213888n0nn1nWWW | ISBN: 9781771474207
"Bee & Flea and the Compost Caper is a chapter book with lots to love. Author and artist seamlessly incorporate STEM facts ... A sure favorite."
- Shelf Awareness - STARRED REVIEW
"Humphrey deftly balances jokes, puns, and STEM tidbits ... This should be a big hit with primary school kids who like buddy comedies, bugs, and gross-out humour."
- Quill & Quire - STARRED REVIEW
"A STEM-tastic exploration of the composting process and the little-known creatures that make it possible."
- School Library Journal
"Blends STEM concepts with humor and a story about buddies. This title is sure to be popular with chapter book readers, budding scientists, and anyone who enjoys gross-out humor."
- Children's Literature Comprehensive Database
"This easy-to-read, engaging exploration of the composting process provides lots of scientific facts ... a buzz-worthy beginning chapter book that is heaps of fun."
- Canadian Review of Materials
Best Books for Kids and Teens, 2022
View full details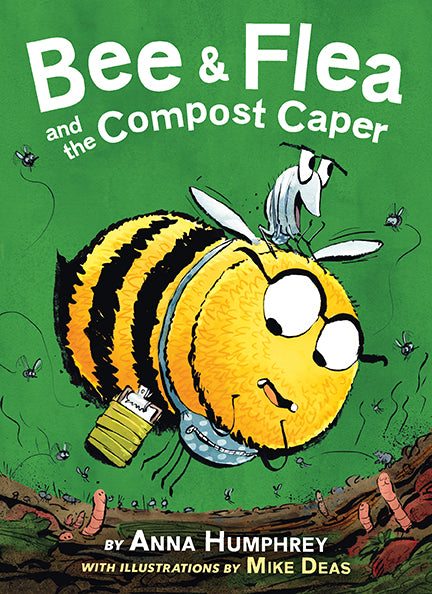 Publication date
April 15, 2022
Curriculum
Perseverance; Teamwork