A Likkle Miss Lou
A Kirkus Reviews most anticipated picture book of fall 2019 by Nadia L. Hohn, named one of CBC's "6 Black Canadian writers to watch"

Louise Bennett Coverley, better known as Miss Lou, was an iconic poet and entertainer known for popularizing the use of patois in music and poetry internationally—helping to pave the way for artists like Harry Belafonte and Bob Marley to use patois in their work. This picture book tells the story of Miss Lou's early years, when she was a young girl growing up in Jamaica.

As a child, Miss Lou loved words—particularly the Jamaican English, or patois, that she heard all around her. As a young writer, Miss Lou felt caught between writing "lines of words like tight cornrows," as her teachers instructed, and words that beat more naturally "in time with her heart."

The uplifting and inspiring story of a girl finding her own voice, this is also a vibrant, colorful, and immersive look at an important figure in our cultural history. With rich and warm illustrations bringing the story to life, A Likkle Miss Lou is a modern ode to language, girl power, diversity, and the arts.

End matter includes a glossary of Jamaican patois terms, a note about the author's #OwnVoices perspective as a Jamaican-Canadian writer, and a brief biography of Miss Lou and her connection to Canada, where she lived for 20 years.
Nadia L. Hohn, Eugenie Fernandes
Regular price
Sale price
$19.95 CAD
Unit price
per
---
SKU: 205677n0nn1nWWW | ISBN: 9781771473507
"This joyful book celebrates the importance of language and taking it as your own." - Kirkus Reviews
"This biography of the poet as a young girl is a tribute not only to her literary beginnings but also to patois itself." - Booklist
"Bright illustrations in creamily vivid color by Fernandes capture the richness of life reflected in the language that so captivated Coverley and conveys how the things she sees reappear on the pages she writes." - Publishers Weekly
"Miss Lou's sweet Jamaican patois speaks to a whole new generation." - Toronto Star
"Hohn offers young readers a glimpse into Louise's childhood and, more importantly, her love of language and delight in Jamaican patois [while] Fernandes's illustrations beautifully capture the heat of Miss Lou's world." - The Globe and Mail
"This is a picture book that must be read aloud. It's a wonderful tribute to a woman who found her voice and shared it with the world, and it reminds us that language should be celebrated and preserved." - Mighty Village
"Recommended for biography collections wishing to incorporate some lesser-known and inspiring persons." - School Library Journal
"This story is a welcome reminder that language varies and has a strong connection to those who speak it." - Canadian Review of Materials
Nadia Hohn won the Elementary Teachers' Federation of Ontario Writer's Award for this manuscript, 2018
Best Canadian picture books of the year, 2019
View full details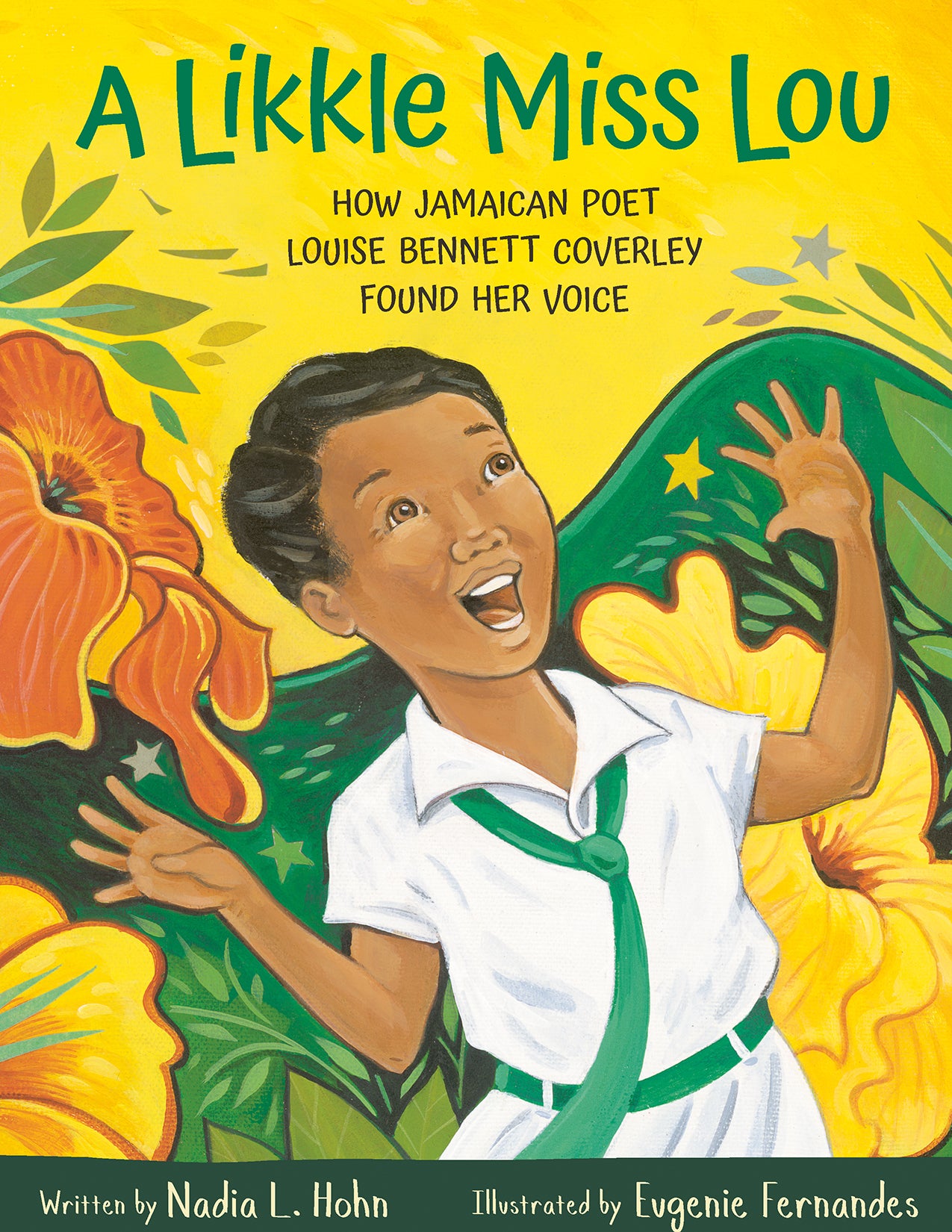 Publication date
August 15, 2019