Camp Average
In the first book in a hit summer reading series for children ages 8 to 12, campers fight to lose like never before. This three-book series is great for sports fans and reluctant readers, with Camp Average shortlisted for provincial children's choice awards in Manitoba, Ontario, and Saskatchewan.

A group of 11-year-olds arrives to spend six weeks playing sports at Camp Avalon—which they affectionately call Camp Average, because they never win at any sport. And that's the way they like it. But this summer, new camp director Winston—who hates losing—has some hyper-competitive ideas about how to improve their performance, whether they want to or not!

Led by main character Mack and his friend Andre, the boys of Cabin 10 decide to reclaim their summer and revolt by losing spectacularly at every game they play, and especially at the big baseball tournament coming up with three nearby camps.

In a story full of plotting, planning, and plenty of push-ups, it's a full-court press on losing for the campers, strategic play-by-play for the camp director, and great teamwork on all sides. Who will come out on top? The first book in the critically acclaimed Camp Average series is a smart, funny summer read featuring a diverse group of realistic characters and a winning storyline.
Craig Battle
Regular price
Sale price
$11.95 CAD
Unit price
per
---
SKU: 210438n0nn1nWWW | ISBN: 9781771474122
"Hilarious, irreverent, and timely, highly recommended for sports fans, summer-camp alums, and preteen-year survivors." - Kirkus Reviews - STARRED REVIEW
"This is a great book about friendship and standing up for what you believe." - PSLA Teaching and Learning
"A fun summer read." - Booklist
"This is definitely one book you'll want to pack in your duffel for summer reading." - Sally's Bookshelf
"A perfect summer read...that will delight young readers who want to relive their own camp experiences or summer camp wannabes." - The Globe and Mail
"Young readers who are yearly campers, huge sports fans, or just looking for a solid story full of humour...will find something to love in Camp Average." - Canadian Review of Materials
Diamond Willow Award, 2020
Sundogs Nominee List, 2021
Ruth and Sylvia Schwartz Children's Book Award, 2020
TD Summer Reading Club Top Recommended Read, 2021
View full details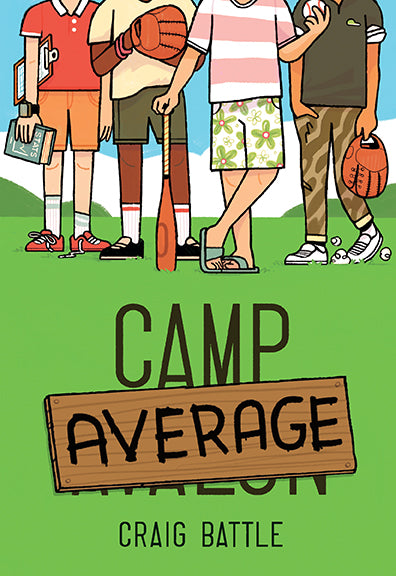 Publication date
April 15, 2020
Interest age
From 8 to 12