Camp Average: Away Games
In the final book of this hit summer reading series for ages 8 to 12, this summer is definitely not average. This three-book series is great for sports fans and reluctant readers, with Camp Average shortlisted for provincial children's choice awards in Manitoba, Ontario, and Saskatchewan.
It's another summer at Camp Avalon—also known as Camp Average to its campers—only this year, things are anything but normal. Mack and Andre are spending the summer at rival Camp Killington, where the competitive campers seem intent on making them suffer.
Meanwhile, at Camp Average, Miles is trying to keep the peace—which is not easy, due to obnoxious newcomer Garth and his pranks. On top of that, Miles has another impossible task on his plate: getting Mack and Andre back on home turf.
Things come to a head when Mack and Andre are forced apart, and Cassie challenges Garth to a do-or-die ball hockey showdown. Will the Camp Average crew find their way back together and come out on top? In this third and final addition to the critically acclaimed Camp Average series, the campers rally to support each other and discover once more how teamwork and cooperation win.
Craig Battle
Regular price
Sale price
$19.95 CAD
Unit price
per
---
SKU: 209779n0nn1nWWW | ISBN: 9781771474054
"The narrative shines when depicting the sports alchemy that transforms diverse young players of varying athletic interests and abilities into a whole greater than the sum of its parts. An exuberant celebration of playing as a team." - Kirkus Reviews
"The campers at Camp Average aren't known for their sports skills, but this group of underdogs work together to try to win." - School Library Journal
"Author Battle has an amazing cast of characters whose interactions are believable in an uplifting, humorous tale ... He has also fashioned a very strong piece of sport fiction jumping seamlessly from the action on the ball-hockey court to baseball drills to croquet." - Canadian Review of Materials
A CBC Best Canadian Middle Grade Book of 2021, 2021
View full details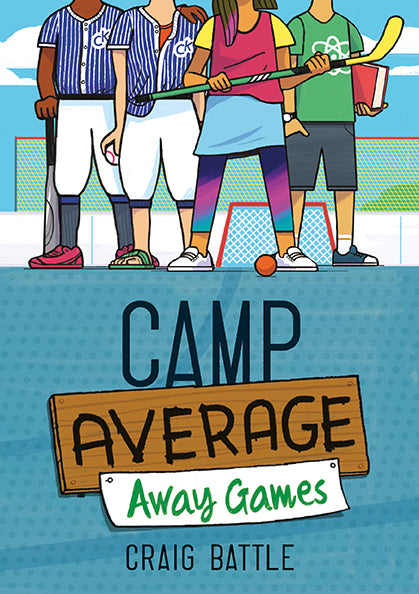 Publication date
April 15, 2021
Curriculum
Reading Comprehension
Interest age
From 8 to 12