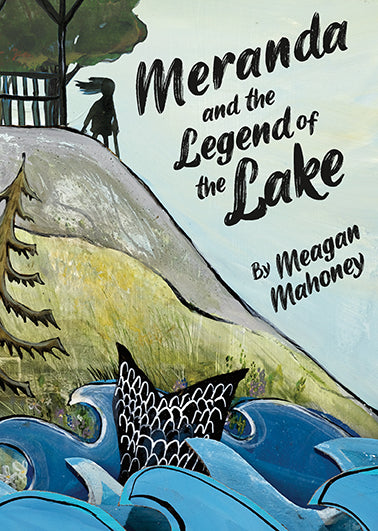 Meranda and the Legend of the Lake
By
From 8 to 12 | 232 pages
Anne of Green Gables meets Song for a Whale with a touch of Nancy Drew in this debut middle-grade mystery
"Mahoney's debut novel combines the fantastical and contemporary to create an accessible story for young readers ... An intriguing mystery set in the mythical backdrop of a coastal Canadian town, starring an unstoppable girl driven by curiosity and her adventurous nature." — Booklist
Eleven-year-old Meranda thought her life was complicated enough with physical challenges (she uses crutches to walk) and her helicopter parents. But when her great-uncle Mark dies, Meranda and her family visit Cape Breton, Nova Scotia, where her parents grew up and where she hasn't been since the age of three.
Soon, secrets begin to unfold: Why does the newspaper headline say her great-uncle Mark's death was suspicious? Why do strangers keep calling Meranda "miracle baby"? Why does her usually calm mother seem so panicky and scared? And what on earth does all this have to do with mermaids? Meranda and her new friend, Claire, decide to investigate on their own. But as Meranda begins to separate fact from fiction, she finds herself in very real danger …
With an intriguing mystery afoot, and a strong-willed, resilient heroine at the helm, this mythical maritime novel celebrates coming of age and growing into yourself.
Meagan Mahoney
"Dark family secrets, hints of magic, and a very tidy resolution after pleasing thrills." - Kirkus Reviews
"Mahoney's debut novel combines the fantastical and contemporary to create an accessible story for young readers ... An intriguing mystery set in the mythical backdrop of a coastal Canadian town, starring an unstoppable girl driven by curiosity and her adventurous nature." - Booklist
"The plot moves quickly and keeps the reader guessing ... Students who enjoy fantasy titles will like this book."
- School Library Connection
"Meranda is a relatable and likeable heroine who faces her challenges, both physical and emotional, with grit and resilience. Part Scooby Doo and part Anne of Green Gables, this is a story that will keep tweens turning pages late into the night."
- This West Coast Mommy
"A well-written novel about Maritime life, family, and mermaid mythology ... Meranda is a fully developed and courageous character who will appeal to young readers."
- Canadian Review of Materials
A Junior Library Guild Selection, 2021
TD Summer Reading Club Top Recommended Read, 2022
R. Ross Annett Award for Children's Literature, 2022
Violet Downey Book Award, 2022
Best Books for Kids and Teens, 2022
Silver Birch Fiction Award, 2023