Secret Schools
Education goes undercover in this compelling look at some of the world's most secretive schools through history
Can you keep a secret? What if it meant hiding from your loved ones, sneaking out late at night, or risking imprisonment? And what if that secret was that you were going to school?
From covert classrooms created by enslaved Africans in the United States, to academic schools disguised as "sewing lessons" for women in Afghanistan, to espionage schools run by powerful governments, Secret Schools explores the hidden classrooms that have opened their doors so children and adults could learn.
Vivid linocut illustrations and interesting facts enhance the book's 15 true stories of resilience and courage in the pursuit of education. Accompanying profiles for each story introduce readers to an important person who played a significant role in each secret school. Concluding with a look at inventive approaches to education in today's world, this deep dive into clandestine learning will invite readers to think deeply about the meaning of education and the barriers many face in accessing it.
Heather Camlot, Erin Taniguchi
Regular price
Sale price
$19.95 CAD
Unit price
per
---
SKU: 214589n0nn1nWWW | ISBN: 9781771474603
"Inspiring tributes to select underground and nontraditional schools and those who founded them."
- Kirkus Reviews
"An interesting, often inspiring overview of a topic rarely examined for this age group that will motivate readers to explore further."
- Booklist
"A timely look at past and present tales of students struggling to learn at all costs ... This book will surely inspire students to conduct further research on many of these underground schools as well as the many brave individuals who made them possible."
- School Library Connection
"Inspiring ... Readers will gain a new perspective about the world around them and their own role as students."
- BC Teachers' Federation
"The information is interesting and presented in short sections ... Recommended."
- Canadian Review of Materials
"A humbling account of peoples around the world, now and in history, that covertly struggle to learn despite the dangers involved."
- Canadian Children's Book News
A Junior Library Guild Selection, 2022
Hackmatack Children's Choice Book Award, 2023
Red Cedar Book Award: Non-Fiction, 2023
View full details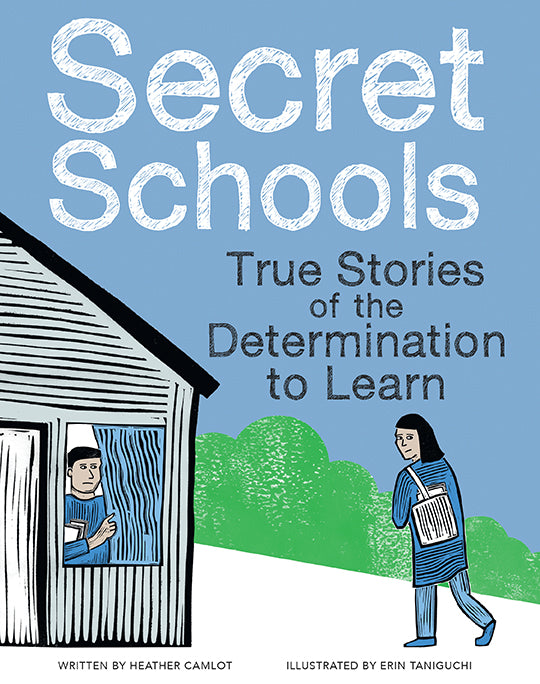 Publication date
September 15, 2022
Curriculum
Courage, Perseverance, Resilience
Interest age
From 9 to 12