Camp Average: Double Foul
A new battle of wills heats up another summer at Camp Average in the second book in this hit summer reading series for children ages 8 to 12. This three-book series is great for sports fans and reluctant readers, with Camp Average shortlisted for provincial children's choice awards in Manitoba, Ontario, and Saskatchewan.

It's a new summer at Camp Avalon—which Mack and his friends still affectionately call Camp Average. After last season's big baseball victory, camp director Winston wants to continue the winning streak. So he's launched a competitive program for elite athletes—including a new group of girl campers.

When Winston enters his charges in a high-stakes basketball tournament, Mack opts out in favor of other, less competitive activities. But Mack starts to suspect he's being played, as one by one, his favorite camp activities all get closed for repairs.

Meanwhile, Winston pits boys against girls in a twisted attempt to win. To undermine Winston's hypercompetitive scheme once again, Mack creates a plan of his own—but it means he needs to secretly sabotage both the boys' and girls' teams. Will Mack match wits with Winston and save the camp from the diabolical director's clutches once and for all? Or will Mack's own mischief be exposed—and lose him his summer and his friends? The second Camp Average book is a fast-paced and funny addition to this critically acclaimed, all-star series.
Craig Battle
Regular price
Sale price
$19.95 CAD
Unit price
per
---
SKU: 203260n0nn1nWWW | ISBN: 9781771473095
"A funny, satisfying exploration of the thematically rich territory between winning and losing." - Kirkus Reviews
"A few surprising plot twists in this humorous, character-driven summer read show cooperation is always best." - Booklist
"Anyone who has done time at summer camp will appreciate the authentic camp scenes, from mess-hall chats and favored counselors to Capture the Flag action... The campers in Camp Average are delightfully high-spirited, diverse and competitive, not just in basketball, but in all the camp's activities." - Canadian Review of Materials
TD Summer Reading Club Top Recommended Read, 2021
View full details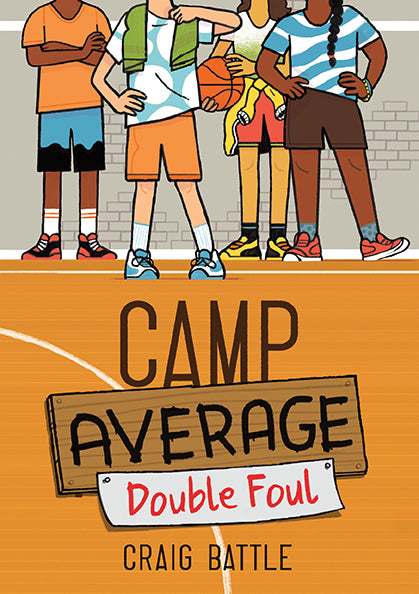 Publication date
April 15, 2020
Curriculum
Reading Comprehension
Interest age
From 8 to 12