I Sang You Down from the Stars
A New York Times and CBC Books bestselling #OwnVoices love letter from an Indigenous mother to her new baby, new from celebrated author Tasha Spillett-Sumner and 2021 Caldecott winning illustrator Michaela Goade, that honors the beauty of a little one's arrival
Drawing from Indigenous creation stories and traditional teachings and illustrated in dazzling watercolors, I Sang You Down from the Stars is a tribute to the bond between mother and child.
The narrator gathers gifts for a medicine bundle in anticipation of her baby's birth; a fluffy white eagle plume, bunches of cedar and sage, a quilted star blanket, and a small stone from the river. When the baby arrives, the mother shares the bundle with her child and reveals the importance of each item inside. But when her family comes to meet the new arrival, she realizes the baby arrived with gifts of its own and that the baby is also a sacred bundle: a baby bundle.
Writing in simple, lyrical text, author Tasha Spillett-Sumner draws from her cultural heritage in order to celebrate Indigenous traditions and the universal nature of a mother's love, with stunning art by the 2021 Caldecott medal winner for We Are Water Protectors, Michela Goade.
Tasha Spillett-Sumner, Michaela Goade
Regular price
Sale price
$19.95 CAD
Unit price
per
---
SKU: 210427n0nn1nWWW | ISBN: 9781771474085
"Gorgeous, shimmering, heartfelt." - Kirkus Reviews - STARRED REVIEW
"A tender celebration of parenthood that will resonate with Indigenous and non-Indigenous readers alike." - Publishers Weekly - STARRED REVIEW
"[Tasha] Spillet-Sumner's tender free-verse tribute to the joy of welcoming a new baby should resonate with any caregiver who has excitedly awaited a child's arrival ... [Michaela] Goade's ethereal watercolor and mixed-media illustrations soar across the page, overflowing with gorgeous touches ... I Sang You Down from the Stars will make a beautiful gift for an expecting family as well as a read-aloud to assure children they are loved."
- Shelf Awareness - STARRED REVIEW
"Beautifully expresses a mother's hopes, dreams and love for her newborn ... Marvelously conveys not only the bonds between mother and child but also the multitude of connections that await every child—connections to family, community and Earth itself." - BookPage - STARRED REVIEW
"The care and love felt through the pages of the illustrations are dreamlike and ethereal ... The emotions stirred by word choices and visual elements can be overwhelmingly tender." - School Library Journal - STARRED REVIEW
"I Sang You Down From the Stars is, quite simply, the best book available in the 'Welcome Baby' category ... An instant timeless classic."
- Canadian Review of Materials
"Graceful, lyrical language is accompanied by soft, soothing, watercolor and mixed media illustrations that shimmer with light and love. If you are looking for a gift for a family with a newborn, this would be a cherished selection." - Sal's Fiction Addiction
"Storytelling and artwork in I Sang You Down from the Stars are both exquisite ... Readers looking for a heartwarming, inviting parent-child (mother-child) story, or those looking to gift a new family with an exceedingly beautiful picture book, I Sang You Down from the Stars is a top pick."
- Fab Book Reviews
Best Books for Kids and Teens, 2021
A Chicago Public Library Best Book of 2021, 2021
A Shelf Awareness Best Book of 2021, 2021
A Kirkus Best Picture Book of 2021, 2021
A CBC Best Canadian Picture Book of 2021, 2021
ALSC Notable Children's Book, 2022
American Indian Youth Literature Award Honor Book, 2022
Rise: A Feminist Book Project List, 2022
View full details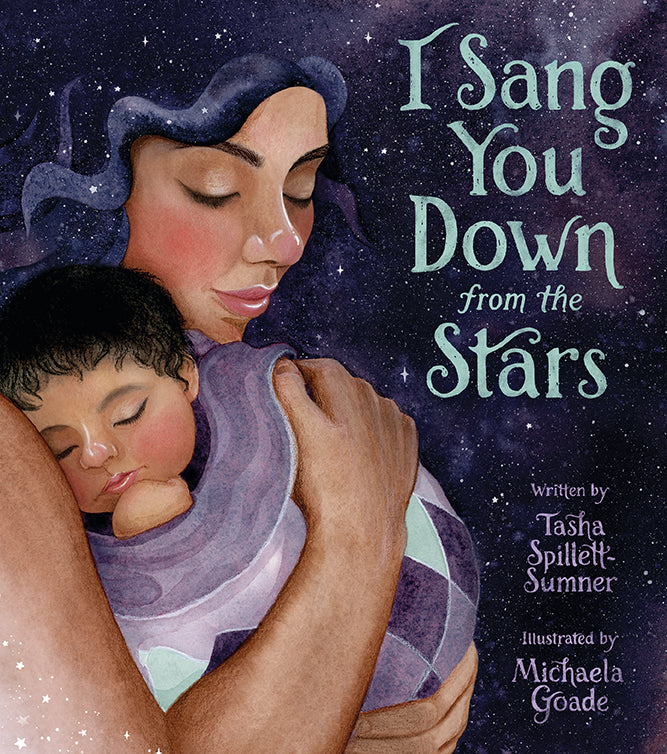 Publication date
April 5, 2021