Moon Pops
A witty, weird, and wonderful spin on a classic Korean folktale, the first picture book to be published in English by internationally acclaimed Astrid Lindgren Memorial Award winner Heena Baek
"Whimsically varied perspectives and the unusual depth of field offered by Baek's technique make for an entrancing display." — Kirkus Reviews – STARRED REVIEW
One sweltering summer night, while the many residents of one apartment building are struggling to fall asleep, the moon begins to melt. Granny hears it dripping and runs out to catch the moon drops in a bucket. At first unsure what do with the drops, she is soon inspired to turn them into popsicles—moon pops!—to help cool down her neighbors.

But as everyone drifts off to sleep, a new problem arises. The fabled rabbits who, according to folklore live on the moon, have lost their home! With the last of the moon drops, Granny grows a new moon from the potted plant in her window. As the moon ascends to the starry sky above, the rabbits return to their home, and Granny returns to her bed.
Illustrated in otherworldly mixed-media 3D shoebox dioramas that use unique and exquisite collage art, this quirky and colorful picture book spins a new story from the common East Asian fable of the rabbit in the moon.
Heena Baek
Regular price
Sale price
$19.95 CAD
Unit price
per
---
SKU: 213946n0nn1nWWW | ISBN: 9781771474290
"Whimsically varied perspectives and the unusual depth of field offered by Baek's technique make for an entrancing display ... A sweet, icy treat that will warm your heart." - Kirkus Reviews – STARRED REVIEW
"A strange and delightful tale made for lingering over—and perfect for reading with your own moon pop ... Cool in more ways than one."
- BookPage
"This modern, whimsical spin on a classic Korean folktale transports readers with eye-catching, detailed artwork and a magical story ... With deep imagination and creativity, Baek has brought to stunning life a piece of Korean culture." - Booklist
"Perfect for a bedtime story on a hot summer night, this entertaining tale offers much to be discovered on multiple readings; a strong title to share widely at story hours."
- School Library Journal
"Inspired by Korean folklore, this bedtime story uses cutout ink characters within detailed dioramas to depict a magical summer night." - Foreword Reviews
"Well-paced, accessibly written and translated, and visually sumptuous."
- The Horn Book
"Extremely inventive, Heena Baek's Moon Pops is an imaginative take on Korean folklore. The writing is crisp and leaves a certain magic in the air. [Baek's] artwork here is stunning."
- Canadian Review of Materials
"Baek's use of onomatopoeia makes for a fun read-aloud for young readers, and her mixed media and collage illustrations result in a unique style that further captures the attention."
- Children's Literature Comprehensive Database
A Junior Library Guild Selection, 2021
A Kirkus Best Picture Book of 2021, 2021
100 Favourite Books of 2021, 2021
A Fuse 8 Production "CaldeNott", 2021
TD Summer Reading Club Top Recommended Read, 2022
USBBY Outstanding International Books List, 2022
A Best Children's Book of the Year, 2022
Boston Globe-Horn Book Award, 2022
View full details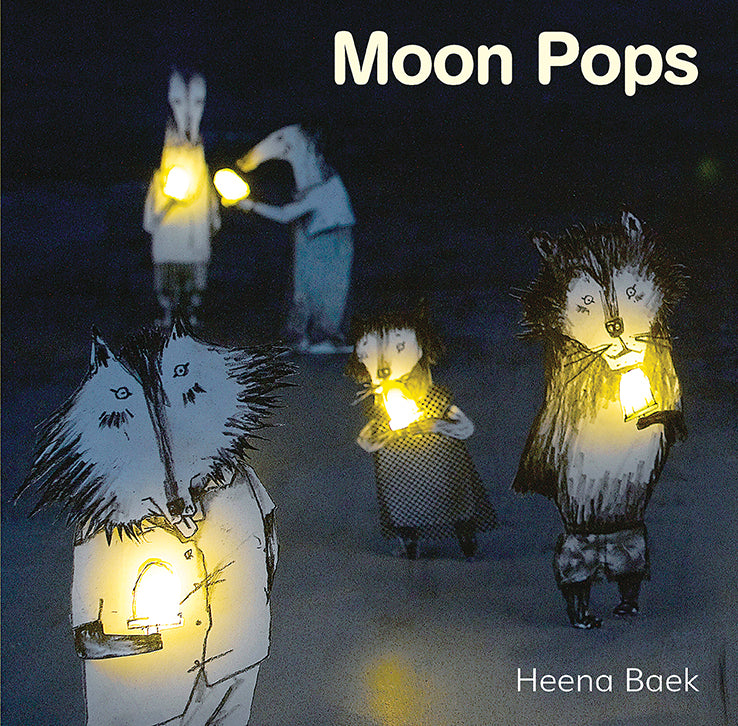 Publication date
August 15, 2021
Curriculum
Reading; Visual Literacy