Princess Pru and the Ogre on the Hill
Shrek meets The Paper Bag Princess in this fearsomely funny story about a savvy princess who looks past appearances to befriend an ogre
Princess Pru's life is practically perfect. She has two loving dads, an ostrich named Orville, and three royal tarantulas. But one day, a ghastly ogre with crusty toenails and goopy ears moves into the house on the hill. At first, Pru sees the ogre as a nuisance: he disrupts her royal rock band practices, weekly tickle tag games, and even the hide-and-seek tournament. But then she starts to wonder if the ogre is just lonely.
The unsympathetic townspeople become especially terrified when Oggy the ogre is spotted buying cupcakes and balloons. They receive ominous notes (that look very much like invitations), and the kings are convinced that Oggy wants to make everyone into a stew! But with courage and spunk, Pru heads to the house on the hill to meet Oggy—for a party! All along, Oggy just wanted to make friends—and thanks to Pru, he does.
Whimsical, hand-drawn illustrations and expressive characters perfectly capture this unconventional fairy tale about empathy, belonging, and daring not to follow the crowd.
Maureen Fergus, Danesh Mohiuddin
Regular price
Sale price
$21.95 CAD
Unit price
per
---
SKU: OB400030n0nn1nWWW | ISBN: 9781771475006
"A lighthearted reminder that first impressions, like appearances, can be deceiving."
- Kirkus Reviews
"Accompanied with vibrant illustrations in a nostalgic comic-book style, Pru and the ogre's story is one of friendship, being kind to others, and staying open to meeting new people without making preconceived judgments."
- Booklist
"Fergus's text balances gross-out humor and contemporary mores, while Mohiuddin's comics-style artwork follows suit in portraying the racially diverse kingdom's arc toward friendliness." - Publishers Weekly
"The illustrations, full of color and detail, perfectly complement this story of friendship and acceptance."
- Youth Services Book Review
"Young children can take a fun romp through fairytale land and learn more about empathy and accepting others in Princess Pru and the Ogre on the Hill ... The fun text and rich illustrations make it a solid pick for younger audiences."
- Canadian Review of Materials
Blue Spruce Award, 2023
Best Books for Kids and Teens, 2023
View full details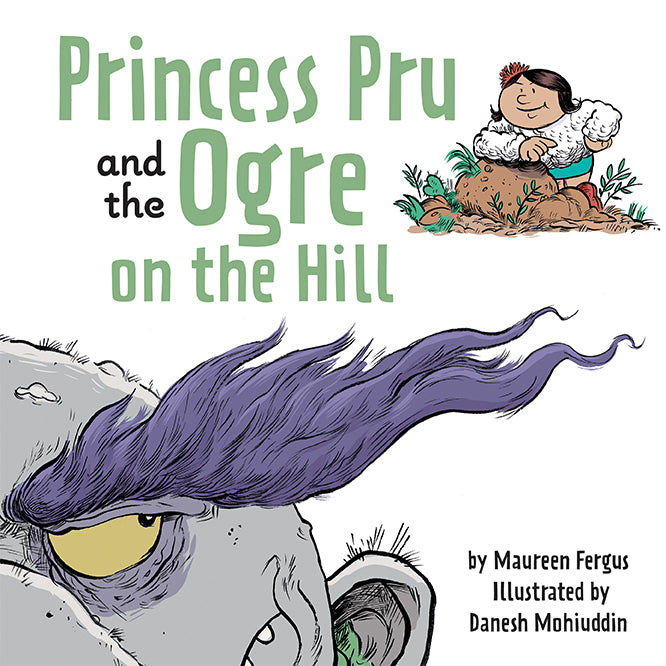 Publication date
April 15, 2023
Curriculum
Self-Confidence; Persistence