The Sorry Life of Timothy Shmoe
An impulsive little boy experiences the power of unconditional love
Timothy Shmoe isn't a bad kid, but sometimes he makes honest (and not-so-honest) mistakes. Time after time, Timothy finds himself in disasters of his own creation, leaving a trail of broken heirlooms, torn tutus, and innocent bystanders (including his cat, Fluffy).
Told in a series of letters, readers follow Timothy through his hilarious antics and missteps. When his pocketful of marbles wreaks havoc at his sister's ballet recital, Timothy realizes he's gone too far. In one final, remorseful letter, Timothy apologizes for the ballet blunder and says his father probably wishes Timothy had never been born. What follows is a touching lesson about the redeeming power of acceptance.
Bright, comic-like illustrations and hand-lettered text bring Timothy and his shenanigans to life. Hilarious and heartwarming, The Sorry Life of Timothy Shmoe is a call to empathy for children who struggle with impulse control, and a tribute to unconditional love.
Stephanie Simpson McLellan, Zoe Si
Regular price
Sale price
$19.95 CAD
Unit price
per
---
SKU: 209093n0nn1nWWW | ISBN: 9781771473934
"Everyone has been Timothy Shmoe at one time or another... Kids and adults alike will identify." - Kirkus Reviews
"Line and watercolor–styled cartoon art and giggle-inducing hand-lettered apology notes capture the damages done vis à vis the contrition on offer."
- Bulletin of the Center for Children's Books
"There are laughs in The Sorry Life of Timothy Shmoe but also lessons about intention, consequences and forgiveness. Timothy Shmoe is anybody who makes mistakes and then has to face the consequences for those mistakes. That's all of us."
- CanLit for Little Canadians
"This humorous story is one that both children and adults will enjoy together." - Youth Services Book Review
"As raucous as it is kindhearted and comforting ... Terrifically funny and thoughtful."
- Fab Book Reviews
"Fun comic-style illustrations lovingly illustrate the ups and downs of life with an impulsive kiddo and the power of unconditional love. A funny and heartwarming story to read together."
- This West Coast Mommy
"Laugh-out-loud funny. Adults are likely to find as much humour, enjoyment and possibly even relatability in this story as do the young children for whom it was intended."
- Canadian Review of Materials
Blue Spruce Award Honor Book, 2022
Best Books for Kids and Teens, 2021
Ontario Library Association Top Ten Best Bets List, 2021
Florida Literacy Association Children's Book Awards, 2022
View full details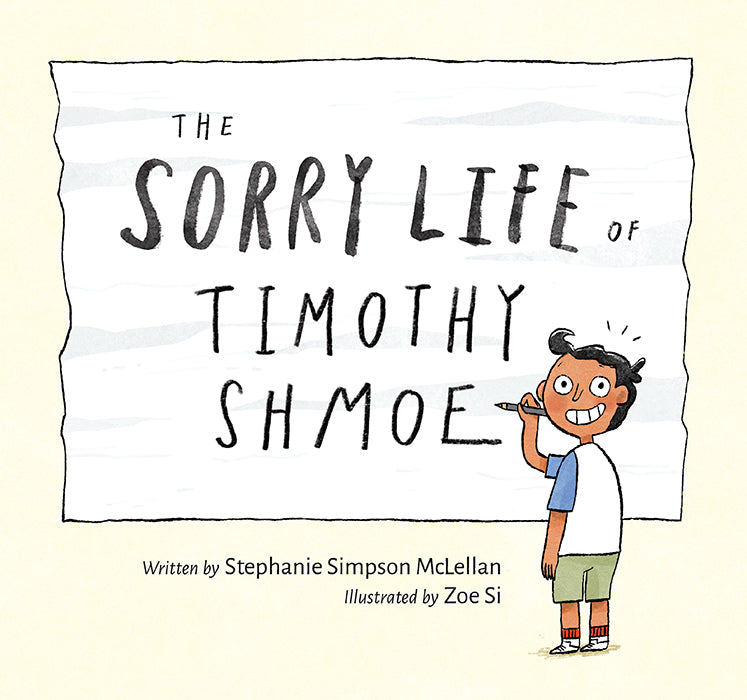 Publication date
April 15, 2021
Curriculum
Ethics and Morals; Human Behavior; Heritage and Identity