What to Bring
A moving story about making tough choices when disaster strikes
Malia and her family are spending a day outside when they notice something strange. Huge white-and-gray clouds fill the sky, planes zoom overhead, and the air smells funny. A forest fire is sweeping the area, and they need to evacuate their home.
Daddy tells Malia that she needs to choose what to bring. "Pick small things. Things important to you," he says. But there's so much that Malia wants to take with her! Her pillows and blankets. Her family of teddy bears. LOTS of books. As the pile in her room grows, and chaos swirls around her, Malia comes to realize that what is most important to her won't fit in a backpack: her little brother, her cat, and her dog.
This heartfelt and powerful story explores a rare perspective: experiencing a natural disaster through the eyes of a child. Malia's authentic voice will resonate with readers, and the book's challenging subject matter is balanced with gentle lessons in communication, problem-solving, and family.
Lorna Schultz Nicholson, Ellen Rooney
Regular price
Sale price
$21.95 CAD
Unit price
per
---
SKU: OB400008n0nn1nWWW | ISBN: 9781771474900
"With wildfires a fact of life, more children will be facing the question of what to bring. This book has some answers, but more, offers a forum for gentle preparation. A necessary title for young readers."
- School Library Journal - STARRED REVIEW
"Reassuring to children facing a similar situation, this selection also offers a subtle, heartfelt message to all about the importance of family that young listeners can discuss ... A straightforward and comforting exploration of an emergency evacuation."
- Kirkus Reviews
"A scary subject is addressed sensitively here ... A gentle story that affirms big feelings and prioritizes relationships."
- Booklist
"Textured artwork brings the emotional impact of the evacuation front and center, while also showing readers it is a situation that can be managed with patience and understanding ... Will certainly provide fodder for conversations."
- Sal's Fiction Addiction
"Written and illustrated by two women who have experienced the local threat of wildfire in the Okanagan Valley, What to Bring is an effective and timely story about love, family and community during our age of climate crisis."
- Canadian Review of Materials
Best Books for Kids and Teens, 2023
Bookstagang Best of 2023, 2023
View full details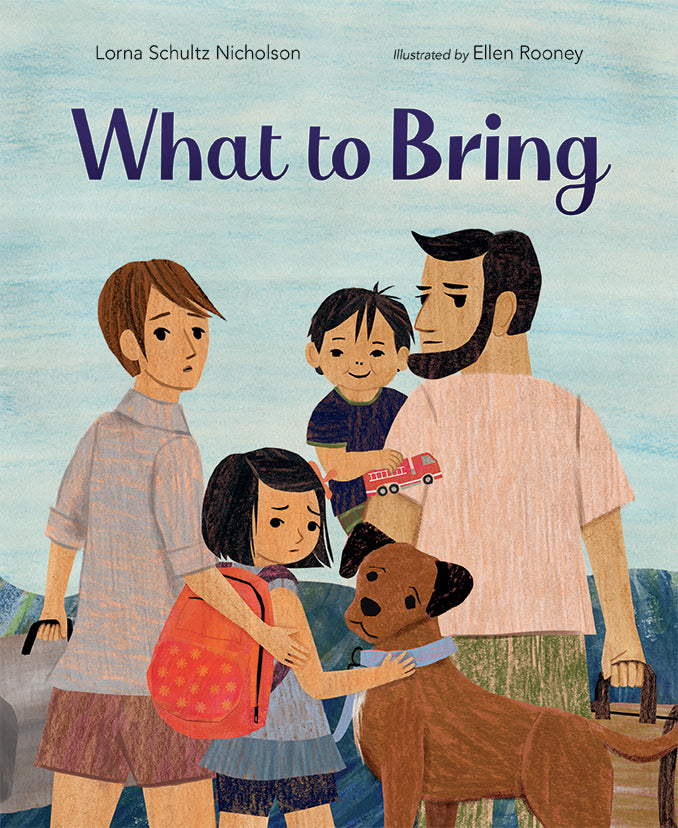 Publication date
March 15, 2023
Curriculum
Responsibility; Cooperation; Positive Communication